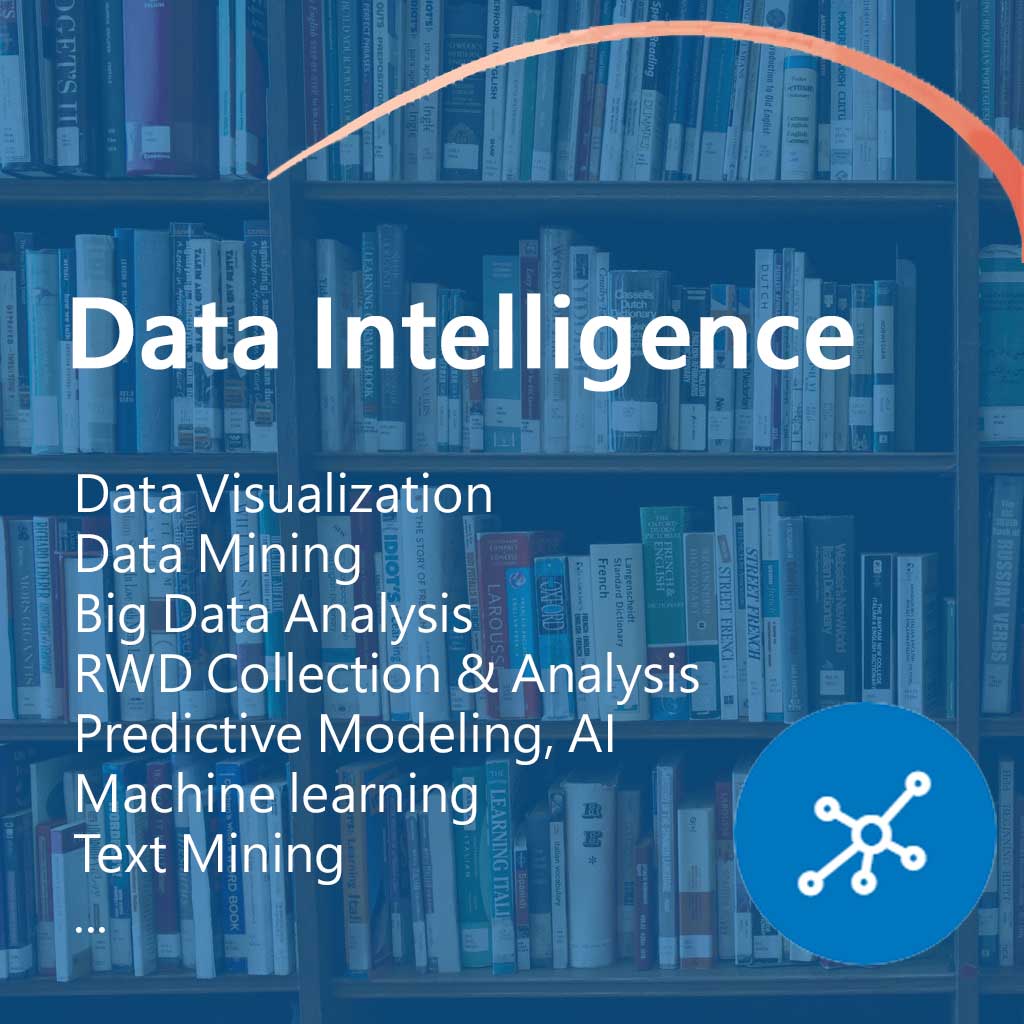 Trust what the Data Reveals.
Most of the Real-World Data, particularly big data, doesn't offer a lot of value in its unprocessed state. We help you get powerful insights from this stockpile of data by bringing in our insights and deep experience, and applying the right set of analytical tools.

We help you unleash the secret power of your data and see beyond the obvious conclusions, using either historical data or recently gathered data, or both, by utilizing a variety of statistical – & data modelling, datamining and machine learning techniques.
We enable you to make data driven business decisions and to bring added value to your own customers, by applying our agile approach to real-world data analysis and data modelling for you.
We are experienced and able to support you with any of the below requirements. 
[Your need is not listed? Contact us to see if we can help or recommend one of our partners]. 
Data visualization (e.g. to support clinical/medical data review)
Data mining (exploratory analyses in particular on registries)
Big data analysis
RWD collection and analysis, customize RWD project
Predictive modeling using AI technologies
Machine learning methodology to improve data analysis
Text mining for better understanding of customer opinion
We would be happy to assess your needs together. Book a call with us, or drop us an email. 
Your Benefits When Choosing Datametrix
Flexibility &
Connectivity
With offices in Switzerland (Neuchâtel), Sweden (Molndal at the AstraZeneca BioHub) and North Africa, we have always embraced virtual team working solutions and techniques. We connect rapidly and readily – through virtual media or in person.
Ensuring the delivery of your projects on time, to the expected standards and within budget, we have a team of highly qualified data analysts and biostatisticians with extensive experience and deep expertise.
Ability to adapt
to your scope
Your needs come first. Our core skills are around data analytics, biostatistics, HEOR, data management and programming. Our large network or partners enables us to broaden our range of services, including clinical operations project management, field monitoring and site management.
Cost-Effectiveness to Compete
Datametrix's lean management and efficient organization enables us to develop cost-effective solutions , helping you manage your budget challenges. If you are unsure about the amount of work to be delivered or face budget constraints, please reach out – our goal is to find the best solution we can, and that is fitting your budget.

What's our "Flexible FSP" Model?
To help you save time, enhance productivity and improve cost-effectiveness, we also offer all our services via our adaptive, value-based FSP Model.
This working model, that we like to call "Super Flexible", offers strong 
benefits to your team:
Focused resources
Multiregional presence and localized customer support
Enhanced productivity
Accelerating recruitment timelines
Ask us any question directly below.
We will get back to you within maximum 24 hours.
Prefer jumping on a call?
View our calendar and book a call at your preferred time.
To receive notifications about our latest developments
and similar stories and challenge to yours, subscribe to our Datametrix
Monthly Recaps.